Current Projects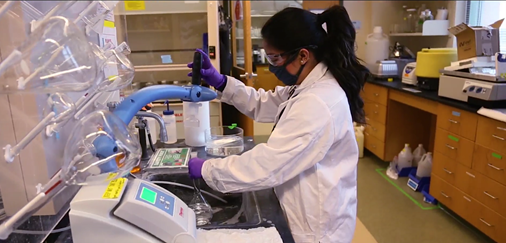 CWE graduate students, postdoctoral researchers, and faculty are performing research across a range of topics of critical importance to communities and ecosystems in the desert southwest and across the globe. The following are examples of recent and ongoing projects by CWE personnel. Please contact faculty advisors for more information.
---
Dr. Jose M. Cerrato
Professor Cerrato leads the E-H2O Research Group which investigates biogeochemical processes at the interface of water, energy, and environmental health that affect the cycle of metals and radionuclides in the environment. The research integrates spectroscopy, microscopy, aqueous chemistry, and molecular biology tools for the study of complex environmental interactions.
Research Professor: Eliane El Hayek
Ph.D. Students: Isabel Meza, Tybur Casuse
Masters Students: Taylor Busch, Casey Miller, Ernesto Perea, Roxanne Awais
Undergraduate Students: Derek Capitan, Andrew Neidhardt, Stella Shoultz
Lab website: http://eh2o.unm.edu/
---
Dr. Ricardo Gonzalez-Pinzon
Dr. Ricardo Gonzalez-Pinzon's team does research on mass and energy fluxes in watersheds. The interdisciplinary research involves hydrology, hydroinformatics, environmental engineering, aquatic ecology, aquatic chemistry, and mathematical and computational modeling. The research, teaching, and outreach activities are focused on the functioning and resilience of water resources systems. Areas of specialty are hydrologic transport, wildfires effects in water quantity and quality, the interplay between food, energy, and water resources, stream ecology, groundwater-surface water interactions, and smart tracers.
Paige Tunby, Jancoba Dorley, Aashish Khandelwal, Justin Nichols, Tzion Castillo
Lab website: http://gonzaric.people.unm.edu/
---
Dr. Anjali Mulchandani
Dr. Anjali Mulchandani leads the Environmental Resource Sustainability Group at UNM. Her research converges environmental engineering, materials science, nanotechnology, and data analytics to design and predict feasibility of novel water treatment and resource recovery technologies. Ongoing projects include atmospheric water harvesting for drinking and industrial use, and metals and energy recovery from wastes. Her group is actively engaged with designing hands-on learning tools and leading public outreach initiatives for STEM awareness and engagement among all levels of learners.
Dr. Mulchandani was a postdoctoral research scholar at Stanford University. She earned her Ph.D. and M.S. from Arizona State University (ASU) and B.S. from UCLA. She is a recipient of the 2021 UNM ADVANCE Women in STEM Award, NSF Graduate Research Fellowship, and 2019 ASU Engineering Dean's Dissertation Award.
PhD: Trier Ward
MS: Natalie Gayoso, Carl Abadam
Undergraduate: Brittney Seaburn, Emily (Gracie) Moylan, Yaniksa Mata
High School: Eliana Kai Juarez
UNM Advance profile: https://advance.unm.edu/2020/11/09/anjali-mulchandani/
---
Dr. Andrew Schuler
The Schuler Laboratory is focused on protecting the environment through the biological degradation of pollutants, with a focus on water quality and wastewater treatment. Removal of nutrients and trace organic chemicals, such as hormones and pharmaceuticals, are critical to protecting sensitive receiving waters. Research in our laboratory includes the use of microbial biofilms to improve removal of nutrients and pharmaceuticals, the use of photosynthetic bacteria and algae for nutrient removal and biofuel production, the development of microbial fuel cells for simultaneous energy production and wastewater treatment, and the genetic characterization of microbial communities to better understand microbial ecology and the enrich for beneficial microorganisms.
---